Overseas China Town (OCT) East
Overseas China Town (OCT) East is a well-known large scale tourist resort in Shenzhen, integrating tourism, leisure, outdoor exploration, outdoor sports, and educational features all in one. The park is designed with the concept of "returning city dwellers to nature". The themed areas include the Grand Canyon, Chaxi Valley and Yunhai Valley. It is also the home to the first themed hotel cluster in China, and a real estate project "Tianlu", based on the concept of harmonious coexistence between man and nature.
OCT East has two major theme parks: Grand Canyon Ecological Park and Chaxi Valley Resort Park, which showcase the infinite charm of nature. Grand Canyon Ecological Park offers scenic spots such as canyon forests, ecological canyons, highlands in a sea of clouds, water parks and Hayfield Town. The park strives to create an experience which brings together man and nature for visitors. The Chaxi Valley Resort Park includes Interlaken Swiss Town, a Wetland Garden, the Sanzhou Tea Garden, Chaweng Ancient Town and more, allowing visitors to experience a blend of Chinese and Western culture.
There is the Interlaken town named after the original town in Switzerland, the town of Hayfield with its wine culture, and the Chaweng Ancient Town which highlights the tea culture of China. These three tourist areas each have their own characteristics and complement each other. This allows visitors to enjoy European and American architecture and culture as well as the ancient Chinese tea culture. Visitors can learn through doing which makes it fun.
OCT East also has seven theme hotels, which are designed with the themes of Swiss culture, German Black Forest, European Castle culture, and so on. They are distributed throughout the park. Tourists can choose their hotel according to their interests. Tourists will be able to stay here comfortably during their visit to OCT.
Phone: 0755-88889888
Website
Opening Times:
Monday to Friday 9:30 am – 5:30 pm
Weekend and public holidays 9am – 5:30 pm
---
Lianhuashan Park
Lianhuashan Park is a famous municipal park in the downtown area of Shenzhen. The park is in the core area surrounded by Hongli Road, Lianhua Road, Caitian Road and Xinzhou Road. The park has a large grassy area, children's park, outdoor sports areas and many other park facilities for both residents and tourists to enjoy.
The grassy area of Lianhuashan Park is situated  in the east and southeast area of the park. The area of grassland, covers a huge area and provides a space for both residents and tourists to relax both their body and mind. The southern part of the park is a scenic area made up of a coconut grove and a planted area full of tropical and subtropical plants. In addition, visitors can go north to the artificial lake scenic area. There is also a large lawn of about 20,000 square meters on the west side of the park, where visitors can enjoy all kinds of leisure activities, such as picnics, games, and outdoor sports. The entire park connects with Caitian Village and Lianhuabei Village. With its large grassy area and ample greenery, it is a great place for people to relax and enjoy themselves.
Lianhuashan Square has many different theme parks for tourists to visit and explore. Entering from the south gate, the square next to the coconut grove and the scenic lawn area is named Kite Square. As suggested by its name, this is the ideal place for Shenzhen residents to fly kites during holidays and the scene of flying kites can be quite spectacular. There is also a square at the top of the main peak of Lianhuashan Park.
Moreover, a "rainforest valley" can be found in the Donglu valley of the park. Here many vines and aerial root plants grow, creating an environment similar to that of a tropical rainforest. Finally, Lianhuashan Park also has a scenic spot, named "Xiao Feng Yang Ri". The park is designed to ensure there are flowers in all seasons, and you will be able to enjoy it no matter which season you choose to visit.
Phone: 0755-83915939
Website (Chinese)
Opening Times:
All year round, 6 am – 11 pm
---
Da Mei Sha Seaside Park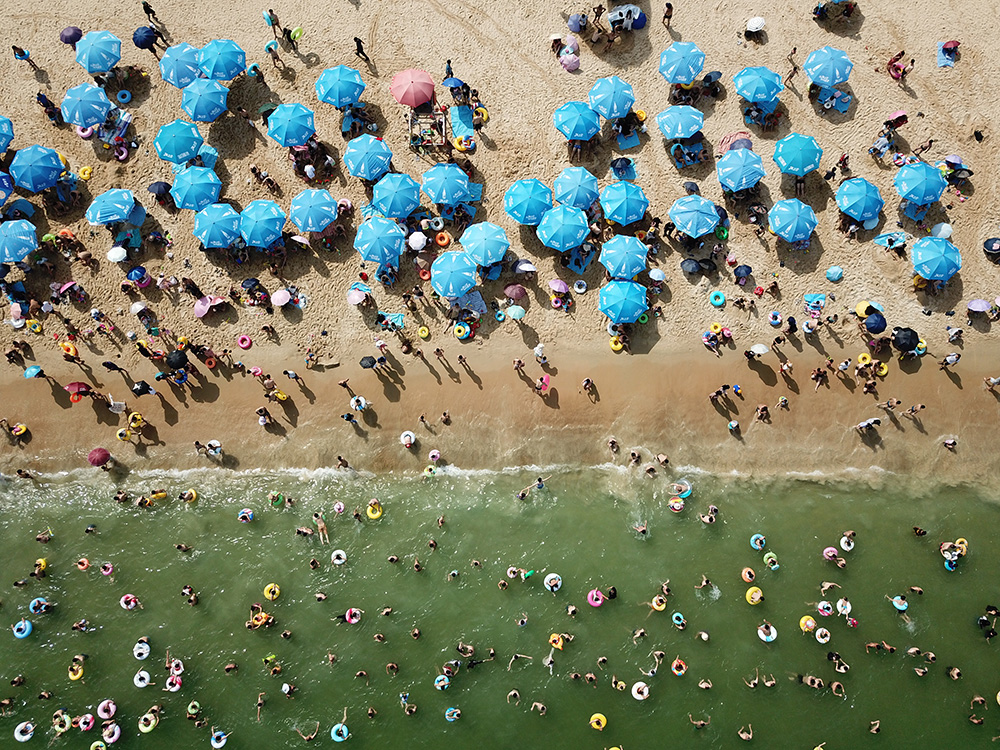 Da Mei Sha Park is located in Yantian, Shenzhen. It is a seaside park developed from a beach in Dapeng Bay. It is one of the earliest developed seaside parks in Shenzhen and is known as the "Back Garden of Shenzhen". The area is surrounded by the sea on three sides and has a long, flat beach1800 in length. The beach extends along Huanmei road. The scenery is beautiful, the water is clear, and the sand is white and fine.
Due to its geographical characteristics, the park has a variety of landscapes from mountains to seas. The planning and design by the British consulting company, Atkins, gives the park  a natural layout with a human touch. The design of the Sun and Moon Squares are done in a vibrant tropical coastal style full of coconut trees and vegetation along the viewing corridor. The dense green and lush foliage extend to the parking lot and are embellished with some modern shapes. This gives it a distinct tropical seaside feeling.  Visitors here can enjoy sightseeing, sports and other activities while visiting; it is wonderful resort for a short getaway.
Entering the park, the first thing visitors see is the Sun Square. The Moon Square is on the west side separated by a 432-meter-long sunlit corridor between them. Moreover, the park also has four viewing platforms for visitors to see the beauty of the city.
The park has the longest beach in Shenzhen. The sand is very fine, and the tide is gentle. The park is divided into different areas, such as an area for sports, entertainment, barbecue and so on. Visitors can do different activities such as jet skiing, bungee jumping, beach volleyball and more. At the same time, there are also shopping areas, restaurants, showers, storage and other services to meet the needs of visitors.
Da Mei Sha Seaside Park attracts Shenzhen residents and tourists from abroad to come and enjoy the beach every year.
Phone: 0755-25061070
Website (Chinese)
Opening Times:
High season 8 am – 1 am (next day)
Low season 8:30 am – 5:30 pm
---
Splendid China Folk Village
Splendid China Folk Village is a famous tourist location located in Shenzhen Bay. Known as the "Shenzhen Lilliputian", it is the earliest folk culture theme park in China. It includes two theme parks: Splendid China and the Chinese Folk Culture Village. With its various performances in the Folk Culture Village and the miniature scenery area, this is one of the calling cards of Shenzhen infused with Chinese characteristics.
Splendid China showcases most of the famous tourist attractions of China, built in the proportion of 1:15. Each piece of miniature landscape is unique and meticulously crafted with a high level of skill. Some of the attractions include the Great Wall, the Terracotta Warriors, the Forbidden City, Mogao Grottoes, Suzhou Gardens, Huangguoshu Waterfall, the Three Gorges and so on. It has nearly 100 famous tourist attractions. These miniature scenic spots are located in accordance with their real counterparts on the map of China, so that visitors can have a quickly navigate and enjoy China's scenic spots and folk customs.
The Chinese Folk Culture Village is a cultural tourist attraction which showcases many of China's unique ethnic groups, architecture and folk art. Through 27 village buildings featuring different ethnic characteristics, tourists are introduced to the rich and diverse folk cultures of the 56 ethnic groups in China. Visitors can appreciate and gain a better understanding of the culture and living customs of different ethnic groups throughout the country. To this end, the village shows the colorful outfits worn by minority ethnic groups, village-style architecture, folk arts, folk performances and so on. There are also largescale festival activities and high-tech experiences to vividly demonstrate the rich and colorful national customs and cultures from every aspect, giving visitors an immersive experience into the charm of Chinese culture.
Whether visitors want to visit the scenic spots and historic sites, enjoy the natural landscape, or experience the unique folk customs of Chinese ethnic groups, they will be able to experience it here.
Phone: 0755-26905222
Website (Chinese)
Opening Times:
Splendid Chinese Garden 9 am – 6 pm
Chinese Folk Culture Village 9 am – 9 pm
---
Wutong Mountain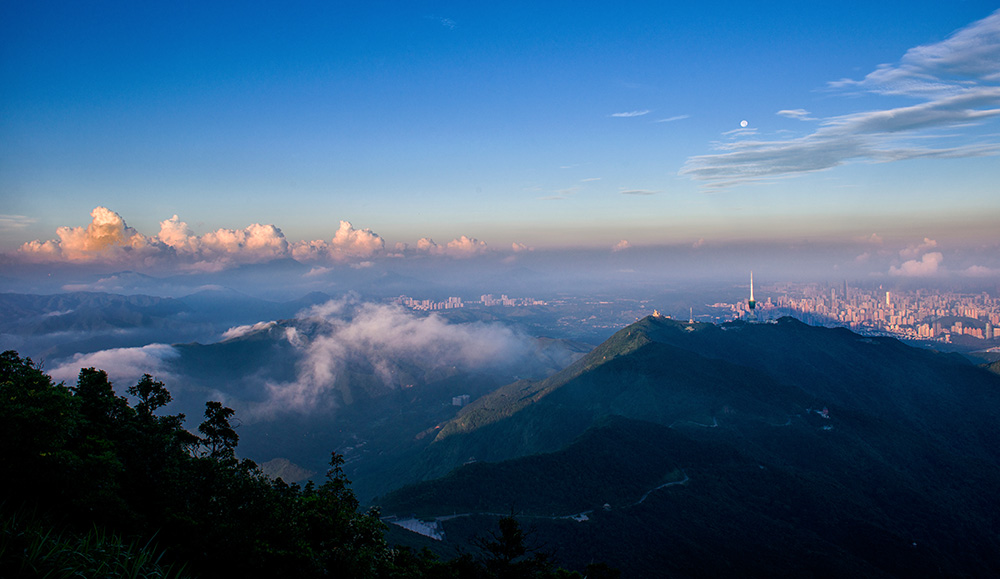 Wutong Mountain is located in the Luohu and Shatoujiao districts of Shenzhen City. It is now a national tourist attraction, covering an area of more than 30 square kilometers. Wutong mountain has three main peaks rising from southwest to northeast, the highest one being the Great Wutong at approximately 944 meters; it is also the highest point in Shenzhen. Visitors can climb to its top and not only see a view overlooking the downtown area of Shenzhen, but also a panoramic view of the Dapeng Bay.
Dawutong and Xiaowutong are popular hiking place for tourists, especially on holiday weekends. The main scenic spot of Xiaowutong is Fenggu Mingqin Scenic Area, it has a long viewing corridor and a gentler route making it suitable for family hiking. From here, you can see a bird's eye view of the busy and modern city of Shenzhen and an incomparable view of the sea and sky.
Visitors can choose to climb Wutong Mountain by following the mountain road through the Fairy Lake Botanical Garden. However, the Taishan Gully route is considered the most beautiful way to the top. The mountain stream boasts great water and plant resources.  Visitors will have a beautiful panoramic view when they reach the top. The peak of Wutong Mountain is also famous for its misty forest scenery. Visitors can enjoy a wonderful view of Wutong" locked in by mist" from the viewing platform.
Another scenic spot worth seeing is the Fairy Lake Botanical Garden, which is large and has more than 6,000 species of plants. The whole garden is divided into six areas, with garden-style buildings, the Fairy Lake, and lush green trees, it is not too much to say it is a paradise.
Hongfa Temple, located in the botanical garden, is one of the two major Buddhist temples in Shenzhen. Every day, there is an endless stream of visitors, many of them Buddhists and believers. At the same time, Hongfa Temple is an important research institution and communication center of religion and Buddhism in Shenzhen.
Phone: 0755-25708918
Website (Chinese)
Opening Times: 6 am – 7 pm